Melanie Yazzie, Ph.D.
Assistant Professor
Native American Studies & American Studies
Diné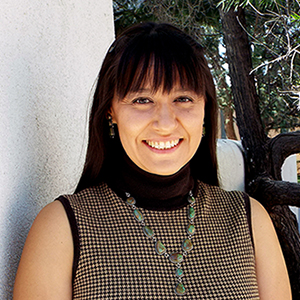 Email: 

Phone: 

505 277-3917

Education: 

Ph.D., American Studies, University of New Mexico; M.A., American Studies, Yale University; B.A., Political Science, Grinnell College
Research Interests:
American Indian History
Diné/Navajo Studies
Environmental Studies & Political Ecology
Queer & Feminist Studies
Social & Political Movements
Urban Indigenous Studies
Social & Political Theory
Profile:
Melanie K. Yazzie (Diné) is bilagaana born for Ma'iideeshgiizhinii (Coyote Pass Clan). She specializes in Navajo/American Indian history; (neo)liberalism; settler colonialism and decolonization; biopolitics; water; Indigenous feminisms; Native American studies; social movements; urban Native experience; political ecology; queer Indigenous studies; Marxist theories of history, knowledge, and power; and theories of policing and the state.

Dr. Yazzie was recently the Katrin H. Lamon Residential Scholar at the School for Advanced Research. She has also held a University of California President's Postdoctoral Fellowship, Andrew W. Mellon Dissertation Fellowship, and Ford Foundation Diversity Predoctoral Fellowship. Before coming to UNM, she was Assistant Professor of Gender and Sexuality Studies at the University of California Riverside where she taught courses in Indigenous feminist and queer studies and women of color feminisms.

She has published articles and book reviews in Environment & Society, Wicazo Sa Review, Studies in American Indian Literature, American Indian Quarterly, Social Text, Decolonization: Indigeneity, Education, and Society (DIES), and American Quarterly. With Nick Estes, she guest edited a special issue of Wicazo Sa Review in 2016 on the legacy of Dakota scholar Elizabeth Cook-Lynn, one of the founders of Native American studies. She also co-edited a special issue of DIES in 2018 with Cutcha Risling-Baldy on Indigenous peoples and the politics of water. She is co-authoring a forthcoming book on bordertown violence with Nick Estes, David Correia, and Jennifer Nez Denetdale.

She is a past board member of Navajo Studies Conference, Inc. and currently serves as the editor for the interdisciplinary international journal DIES. She also engages in extensive public intellectual and activist work that focuses on Native women's rights, LGBTQ2 rights, environmental justice, policing and incarceration, Indigenous housing justice, urban Indigenous issues, and international solidarity.