18th Viola F. Cordova Symposium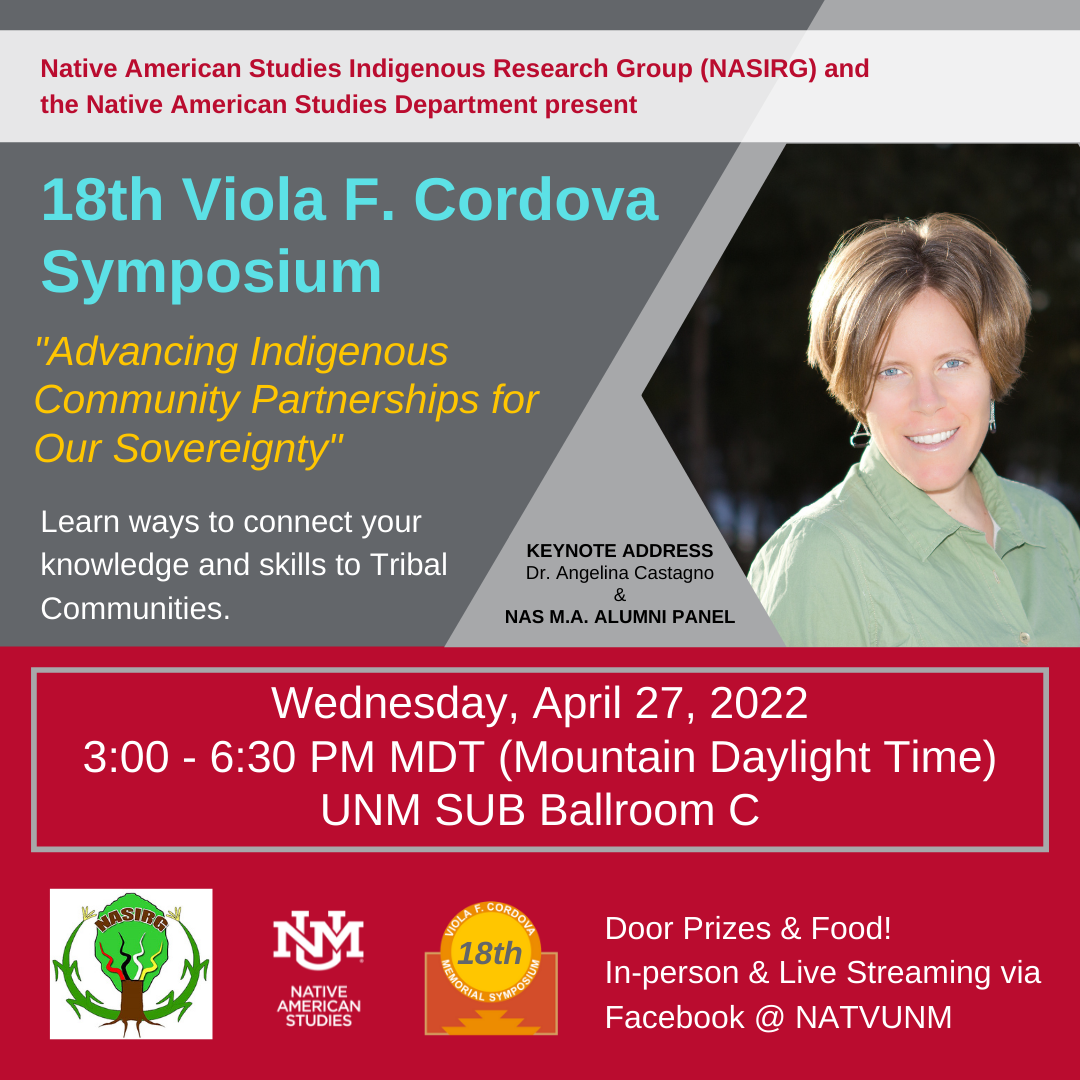 When: Wed, Apr 27 2022 3:00pm - Wed, Apr 27 2022 6:30pm 
Where: UNM SUB Ballroom C
Join the Native American Studies Indigenous Research Group (NASIRG) and the Native American Studies Department for the 18th Viola F. Cordova Symposium on Wednesday, April 27, 2022 from 3:00 – 6:30 PM (MDT) in the UNM Student Union Building, Ballroom C. The theme of the symposium will be centered on "Advancing Indigenous Community Partnerships for Our Sovereignty," with a special Keynote Address by Dr. Angelina Castagno, Director of the Institute for Native-serving Educators & Diné Institute for Navajo Nation Educators and Professor in Educational Leadership & Foundations at Northern Arizona University. Following the Keynote Address will be a panel of Native American Studies M.A. Alumni: Albert Abeita (Isleta Pueblo), Leiloni Begaye (Diné), Micha Bitsinnie (Diné), and Janiece Garcia (Santa Ana Pueblo). Learn ways to connect your knowledge and skills to Tribal Communities. Door prizes & food! Join us in-person (SUB Ballroom C) or via live stream on Facebook @NATVUNM. For questions, contact: nasirg@unm.edu or call 505-277-3917.
Agenda
3:00 – 4:00 PM: Keynote Address, Dr. Angelina Castagno
4:00 – 5:00 PM: NAS M.A. Alumni Panel
5:00 – 5:15 PM: Discussant
5:30 – 6:30 PM: Reception.
We hope to see you there!