NAS Student Presentations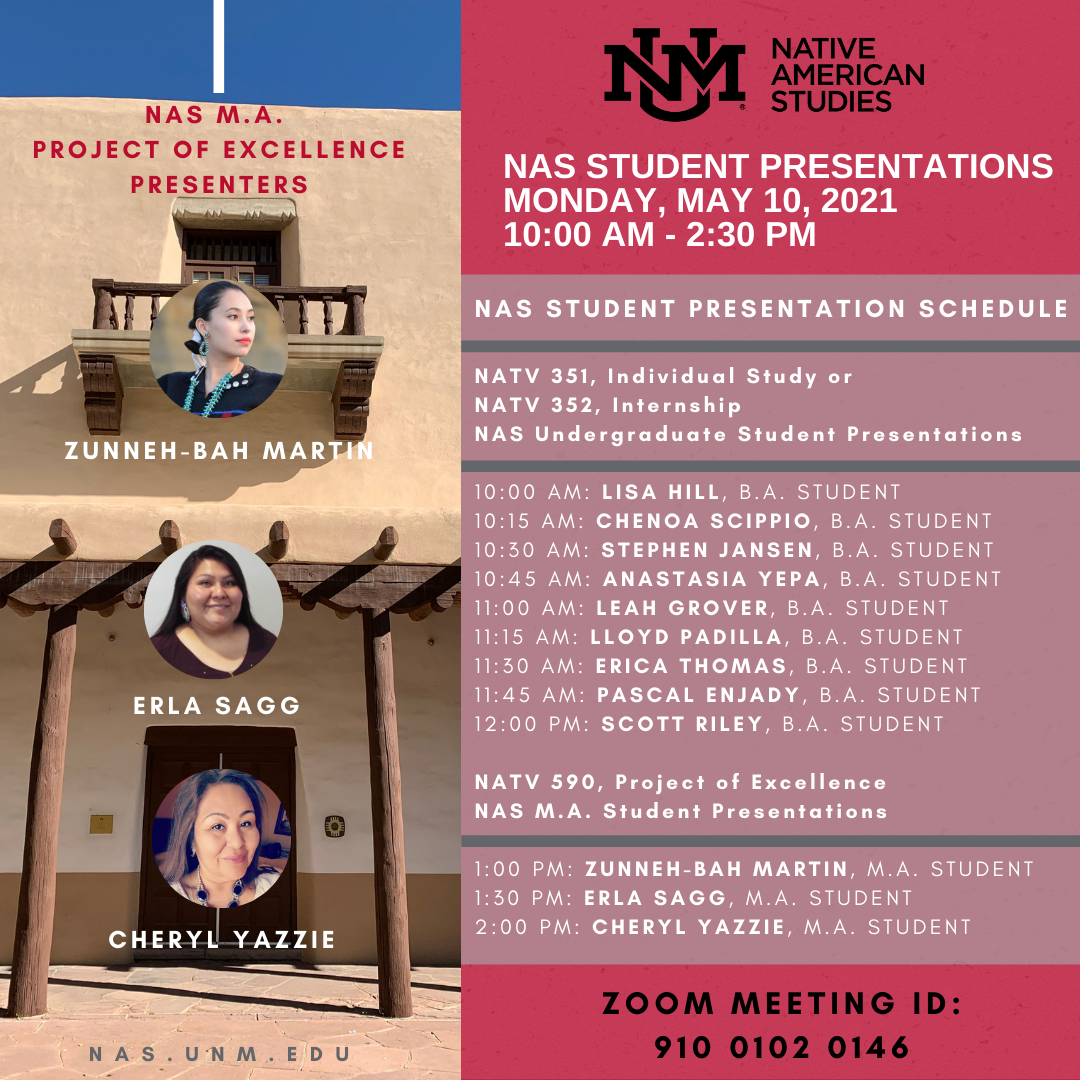 When: Mon, May 10 2021 10:00am - Mon, May 10 2021 2:30pm 
Where: Zoom
Native American Studies B.A. and M.A. students will be presenting on Monday, May 10, 2021 from 10:00 AM - 2:30 PM (MDT) via Zoom.
NAS undergraduate students will present on their research or internship experiences through their work in the NATV 351, Individual Study or NATV 352, Internship courses from this Spring 2021 semester.
The M.A. students will give a special presentation on their Project of Excellence, NATV 590.
NAS Student Presentation Schedule
10:00 AM: Lisa Hill, internship, Dr. Greyeyes
10:15 AM: Chenoa Scippio, internship, Dr. Greyeyes
10:30 AM: Stephen Jansen, internship, Dr. Greyeyes
10:45 AM: Anastasia Yepa, internship, Dr. Greyeyes
11:00 AM: Leah Grover, internship, Dr. Lloyd Lee
11:15 AM: Lloyd Padilla, internship, Dr. Lloyd Lee
11:30 AM: Erica Thomas, individual study, Dr. Yazzie
11:45 AM: Pascal Enjady, individual study, Dr. Greyeyes
12:00 PM: Scott Riley, individual study, Dr. Paquin
BREAK
1:00 PM: Zunneh-bah Martin, Project of Excellence, Dr. Greyeyes
1:30 PM: Erla Sagg, Project of Excellence, Dr. Yazzie
2:00 PM: Cheryl Yazzie, Project of Excellence, Dr. Tiffany Lee
ZOOM Info
Topic: NAS Student Presentations
Time: May 10, 2021 10:00 AM Mountain Time (US and Canada)

Click to Join Zoom Meeting

Meeting ID: 910 0102 0146