2020-2021 NAS Scholarship Application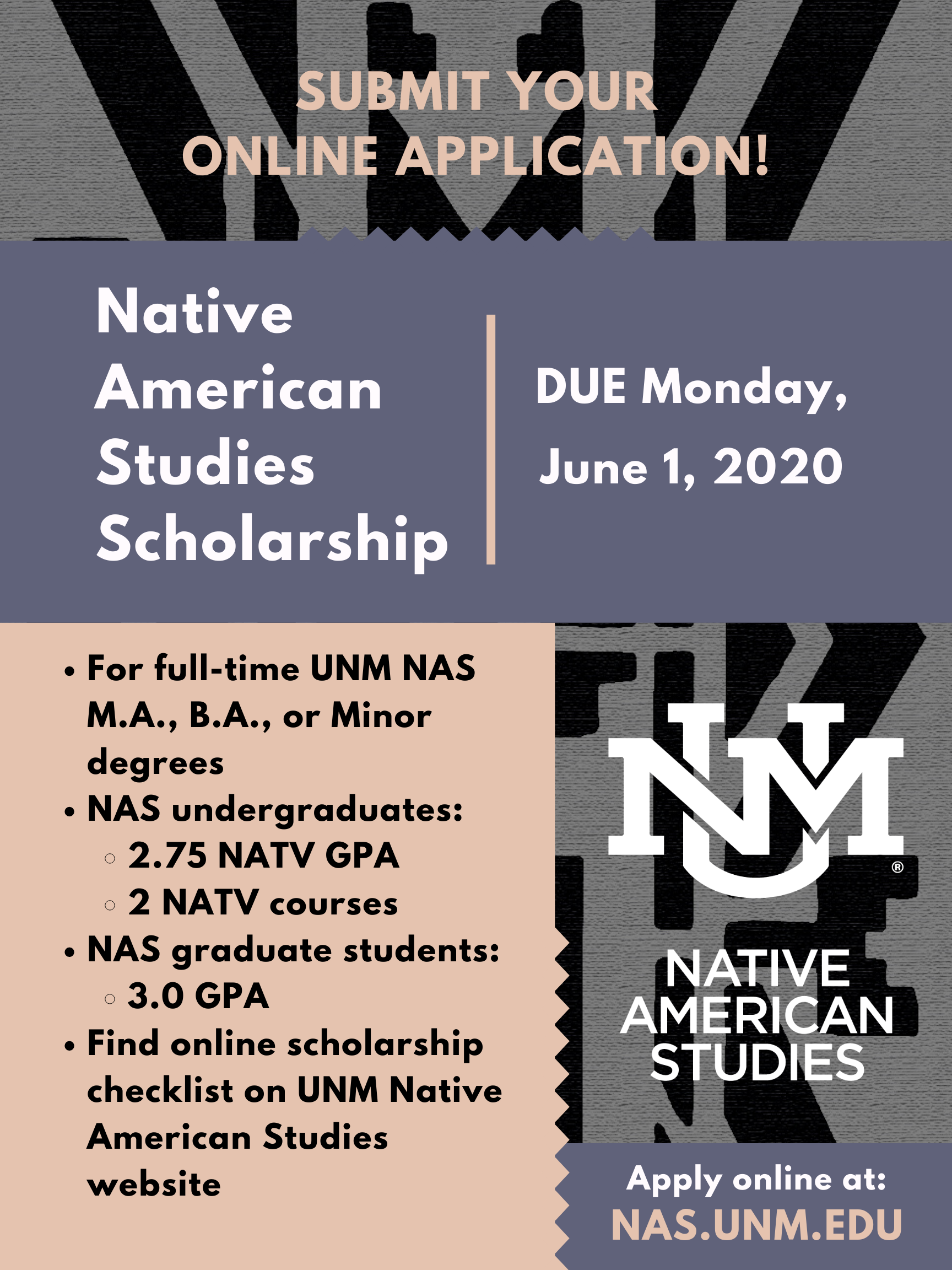 When: Mon, Jun 01 2020 12:00am - Mon, Jun 01 2020 11:00pm 
This scholarship is awarded for both Fall 2020 and Spring 2021 semesters for UNM NAS students in the B.A., Major or Minor, or M.A. degree programs. The Spring 2021 award is contingent upon successful completion of full-time credit hours, maintaining above the required 2.75 GPA (in NATV courses), and continued satisfactory academic progress towards graduation.
SECTION I:  GENERAL STUDENT DEMOGRAPHIC INFORMATION
Please fill out in online form  


SECTION II:  NATIVE AMERICAN STUDIES STUDENT STATUS
Please fill out in online form
SECTION III:  SHORT ESSAY
Please compose and type concise responses in your own words to the three questions below.  Your responses will be evaluated on content, depth, creativity/originality, and grammar.  Please limit the total length of your responses to no more than 800 words for M.A. and Major degree and 600 words for Minor degree. Please email as a Word Document format to cnm@unm.edu
What motivated you to become a M.A. degree student or to declare a Major or Minor in Native American Studies?
How has Native American Studies enhanced your understanding of leadership in Native American communities? How has this evolved?
Describe your planned involvement with community, activities, and/or employment after you obtain your degree. What steps are you taking to reach your goal?
SECTION IV:  EXTRACURRICULAR
Please email a copy of your latest resume listing your extracurricular activities (student organization or athletic participation, volunteer work, community service, etc.) in a Word Document format to cnm@unm.edu
SECTION V:  DONOR THANK YOU LETTER
I understand and agree this scholarship will require me to write a "thank you" letter to the funding donor if selected as a recipient.  Further instructions and deadline will be provided if selected.
TO CONNECT TO THE NAS SCHOLARSHIP APPLICATION ONLINE FORM, CLICK ON THE LINK. 
For additional questions, please contact Catherine Montoya, Sr. Student Success Specialist at cnm@unm.edu.