Prospective Students
Applications DUE FEBRUARY 28, 2022!
Welcome and thank you for your interest in the Native American Studies Master of Arts degree program.  The M.A. in Native American Studies targeted towards students who hold a Bachelor of Arts degree in NAS or in a NAS-related program.  The M.A. prepares students for positions in tribal leadership, leadership in tribal and/or community-based organizations, and positions related to educational outreach and training, social and cultural program development, policy development, and sustainable community building. 
Master of Arts in Native American Studies
Focus in Indigenous Leadership, Self-Determination, and Sustainable Community Building
To apply to the M.A. in NAS program go to GRAD.UNM.EDU:
Eligibility Requirement:  have a minimum grade point average of 3.0 or its equivalent in the last two (2) undergraduate years in your major field
Submit an online application and pay the fee
Upload a Letter of Intent (3-5 pages) that addresses educational goals, professional plans, interest in the M.A. degree program, and background in NAS or Indigenous communities
Upload a Writing Sample (10-15 pages) of original work that is academic, technical, professional, or artistic in nature (i.e. research paper, article, thesis, film, manuscript, reports, briefings)
Three (3) Letters of Recommendation.  Academic letters are strongly encouraged.
Upload a copy of your latest resume or CV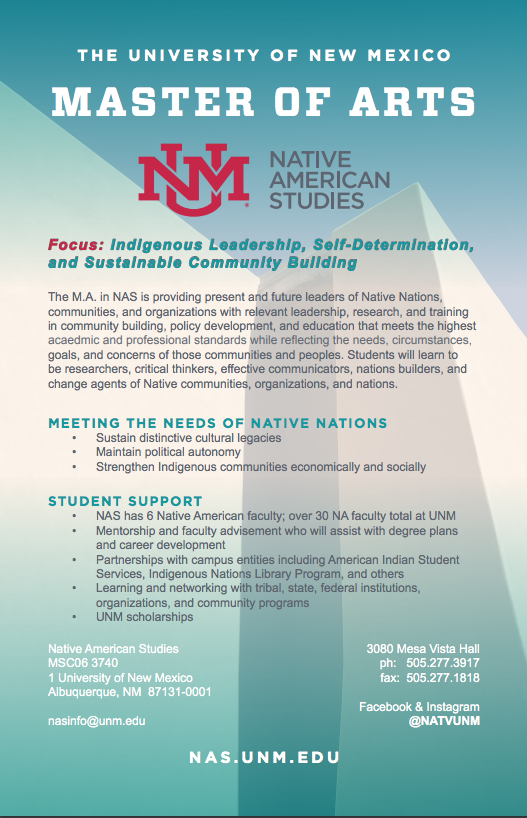 See the flyer
Interest in M.A. in NAS
For current UNM students, schedule an appointment with the Senior Student Success Specialist, Dr. Catherine Montoya, through Loboachieve.unm.edu or email cnm@unm.edu.  For other students interested in the M.A. degree program, please call 505.277.3917.
Graduate Faculty Director
The Graduate Faculty Director, Dr. Lloyd Lee, meets with students to determine their Plan of Study once a student is admitted to the Master of Arts degree in Native American Studies.  Dr. Lee is also available for questions about the M.A. degree program:  triplel@unm.edu.
Meet M.A. students from our first cohort who graduated during the 2019-2020 academic year:  2020 Native American Studies Convocation Recognition. Learn about the Projects of Excellence by our second cohort who graduated May 2021: Projects of Excellence.
Resources
Office of Graduate Studies - GRAD.UNM.EDU

Wealth of resources available to new and current graduate students
Submit your Admission application through their website
Application Guidelines available
Funding opportunities and other information available

Graduate Resource Center (GRC) - UNMGRC.UNM.EDU

Support services
Workshops
Resources and helpful links available